Hearing aids should fit into your lifestyle, not the other way around. According to The Vision Council, nearly 64% of Americans wear prescription glasses. Fortunately, many people wear glasses and hearing aids at the same time without issue.
In this article, we'll discuss:
Types of Hearing Aids
There are two main types of hearing aids: those that rest behind the ear, and those that sit entirely in the ear (whether it's in the ear canal or bowl of the ear).
If you have an in-the-ear hearing aid, wearing glasses will be no issue because there are no wires, tubing, or anything else behind the ear to interfere.
Wearing glasses is particularly a concern for those who wear hearing aids that rest behind the ear. But don't fear, the steps for wearing glasses with behind-the-ear hearing aids are simple.
How to Wear Hearing Aids and Glasses
Here are the steps:
Put your glasses on.

Put the hearing aid on, placing the hearing aid body between the arm of your glasses and your outer ear (so your glasses sit closest to your head).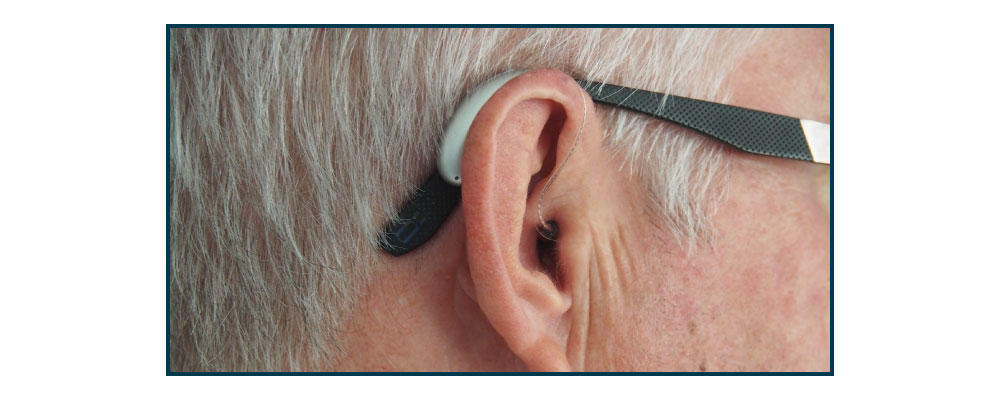 That's it—no special accessories needed. The hearing aids should fit snugly and comfortably.
If you're the type of person who regularly removes and replaces your glasses (if you have a set of reading glasses along with your regular glasses, for example), you should avoid tilting your glasses up or down as you remove them. This will help keep the hearing aid and your glasses in place without needing to start the process over.
Looking for more resources?