Charging your hearing aids is easy and convenient. You can plug in the charger while you sleep, power your device overnight, and wake up ready to enjoy another day of crystal-clear hearing.
In this article, we'll discuss:
How to Charge the NEO
Plug the charging case into a standard outlet. The bottom row of lights will turn blue to indicate it's plugged in and ready to charge; when the charger is not plugged in, all three lights will be off.

Place the hearing aids in the charger with the removal string at the bottom. The left hearing aid should be placed in the left side of the charger, and the right hearing aid in the right side. Keep the removal string as straight as possible to ensure the hearing aids get a solid contact in the charging base.



The top row of LED lights indicate the hearing aid's charging status.

When your NEO is less than 40 percent charged, the first LED light will flash blue.

When the aid is 40 to 70 percent charged, the first LED light will be solid and the second light will flash blue.

When the aid is charged between 70 and 95 percent, the first and second LED lights will be solid and the third light will flash blue.

When the aid is fully charged, all three lights will be solid blue.

Charging Case LEDs
The charging case has three rows of LED light indicators. The two top rows indicate the left and right hearing aids; the third row (located in the center) indicates the charger.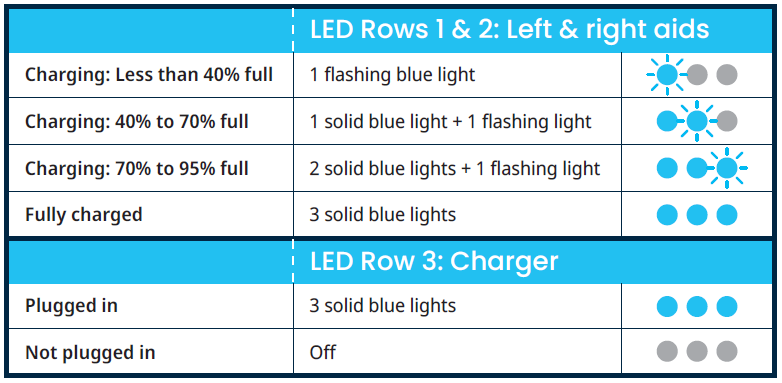 Charging Time
It takes approximately 3-4 hours to fully charge the NEO. Once the battery is full, a sensor stops the charging process so there is no risk of battery degeneration if NEO is left on the charger.
On average, a full charge lasts 17-18 hours.
Low Battery Warnings
A beep from the hearing aids indicates low hearing aid battery. This will repeat every 5 minutes until the battery fully runs out.
Looking for more resources?