Tools
Black cleaning tool with the cleaning wire

A tissue or microfiber cloth

The hearing aid body (with tubing removed)
Cleaning the Hearing Aid Body
We are going to start by just wiping down the body of the hearing aid with the microfiber cloth. The hearing aid is in contact with your skin all day—even the skin on the back of your ear produces sweat and oils that will accumulate over time. Just a gentle wipe will remove oils and moisture.
Locating the Microphones
To start, we need to locate where the microphones on your particular hearing aid are.
If your hearing aid has a single microphone, it is likely located close to where the hearing aid connects to the tubing. The microphone may look like a little black circle or small hole.
If your hearing aid has any additional microphones, they likely can be found on the spine of the hearing aid, near the controls. If you see a small hole, or a couple of holes, or a small grill, these indicate the location of your additional microphones.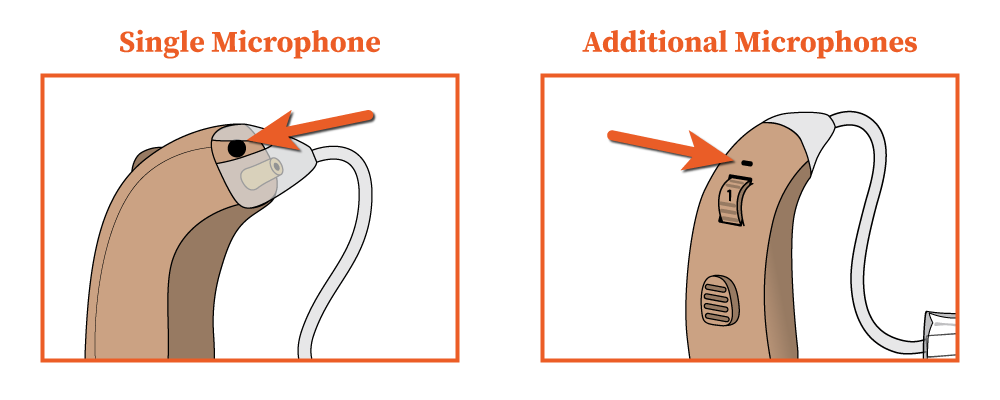 Cleaning the Microphones
After identifying the location of the microphone or microphones on your hearing aid, use the black cleaning tool with the brush and gently brush the microphones to remove any dust or debris.
The microphone is where the hearing aid picks up sounds to amplify, so any blockage of the microphone will have an impact on the sound that reaches your ear. It is absolutely essential to keep the microphones clean and free of debris. However, we don't want to damage the microphones, so don't force the brush deep into the microphone or poke the microphone with the brush.