Before beginning, make sure the device you would like to connect to the hearing aids is working and has a fully charged battery. You'll also want to make sure the Bluetooth is active and is not in need of an update.
After confirming your device is ready, please verify the following:
Make sure the hearing aid is within 10 feet of the smartphone or tablet.
Make sure the hearing aid isn't connected to any other devices, as they can only connect to one device at a time.
Open the MDHearing app and go to the

Support

tab. Scroll down and under

"Device Information,"

select either

"Left Device"

or

"Right Device,"

depending on which aid you are connecting.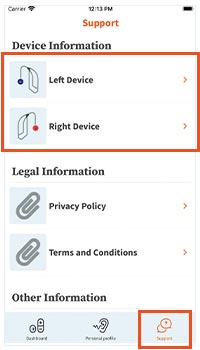 Once you have selected the aid you are having issues with:
Scroll down and select "Forget this device" from the menu.
Minimize the app on your screen.
Navigate to the Bluetooth settings on the device.
If the hearing aid(s) and your Bluetooth device have been connected previously, they will show in "My devices" for iOS users, or in "Paired devices" for Android users.

In your Bluetooth devices, you should see the device(s) named, "VOLT MAX."

At this point, please do the following:
Select the device called "VOLT MAX." (On iOS, you will select the blue

"i"

to the right of the device.)
Select

"Forget this device,"

or

"Unpair."
Repeat those steps for all instances of

"VOLT MAX,"

regardless of how many appear.
Reopen the app.
If either of your hearing aids was previously paired to the app, there should be a pop-up requesting permission for your phone to connect to that device. Allow the devices to connect by pressing
"OK."(*Please note some Android devices may not have this prompt.)

At this time, you will want to navigate to the
Support
tab. Under
"Device information,"
select whichever device you
"forgot."
Then scroll down to select "
Set up L/R device
" and follow prompts to try and connect the hearing aid(s) again.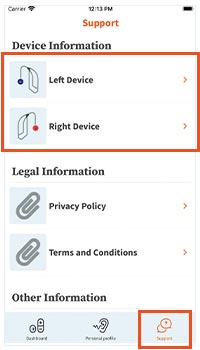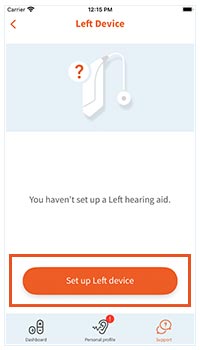 We hope that these suggestions correct the connection difficulties you're experiencing. If you are still unable to connect your device, please go through the following steps:
Double check to ensure Bluetooth is active on your mobile device.
If you are using a CORE hearing aid, please ensure a fresh battery is inserted into the aid.
If you're using a VOLT MAX aid, please place it back in the charger and wait for the LED light on the case to turn green, ensuring it is a fully charged, working device.
Retry the connection.