Like most electronic devices, hearing aids run on batteries. Traditionally, hearing aids used tiny, disposable batteries that had to be changed every few days to weeks. Nowadays, most hearing aid models come with rechargeable batteries.
In this article, we'll discuss:
Rechargeable Batteries
Most hearing aids now come with a rechargeable lithium-ion battery. These batteries are typically recharged at night in an easy-to-use charging case, when a hearing aid wearer takes their hearing aids out to sleep.
The AIR 3, NEO, VOLT, VOLT+, and VOLT MAX are our rechargeable models, and therefore use a rechargeable lithium-ion battery.
The battery life of rechargeable hearing aids usually provides a full day's use before needing to recharge. Battery life can vary though—heavy use of Bluetooth, for example, may drain the battery faster. Unlike disposable batteries, rechargeable hearing aid batteries typically cannot be replaced by the user.
Disposable Batteries
Some hearing aids still use disposable zinc-air batteries, sometimes referred to as "button" batteries. They come in four main sizes: 675, 13, 312, and 10. The size that you need will depend on the hearing aid you have.
Older MDHearing AIR (series H, series E, and series M), PRO, and, CONTROL models use a size 13 battery (

orange tab

).
MDHearing LUX and CORE models use a size 312 battery (

brown tab

).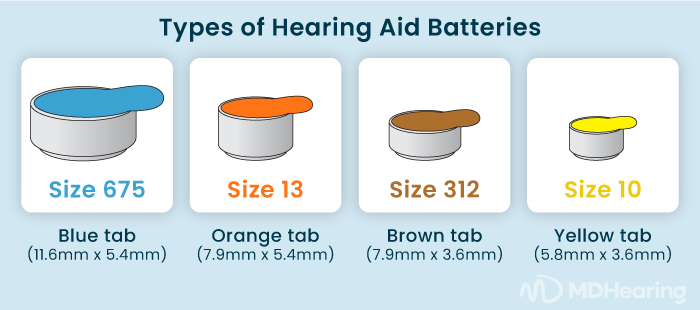 Battery life depends on the hearing aid model/size, environment, and types of use—some last days and some last weeks. For example, noisy environments require more noise and feedback reduction, which can drain the battery faster.
Both sizes of hearing aid batteries are available on our website or at most corner drug stores.
What is the adhesive tab for?
The small, adhesive, colored tab on the battery is a protective seal. Because zinc-air batteries are air-activated, this tab allows them to remain inactive until it is removed. Once the tab is removed, the battery is "turned on" and begins to discharge, so don't remove it until you're ready to use it.
To get the best performance from a zinc-air battery, wait about one minute after removing the adhesive tab to fully activate it before placing it in the hearing device. Replacing the sticker will NOT deactivate or "turn off" the battery. Once the sticker is removed, the battery will remain in an active state until the power is drained.
Tips for disposable batteries
Batteries can be harmful if swallowed. Keep out of reach of children and pets. If a battery is accidentally swallowed, seek medical attention immediately or call the National Battery Hotline at 800-498-8666.
For prolonged periods of non-use, open the battery compartment and remove the battery to prevent corrosion.
Store batteries in original packaging (with the tab on) until ready for use.
Do not use expired, unsealed, or corroded batteries.
Do not leave dead batteries in the hearing aid. Remove or replace them immediately.
Looking for more resources?