Hearing aids should fit into your lifestyle, not the other way around. Many people need to wear a nasal cannula or other accessories around their ears, and when the need for a hearing aid emerges, you might wonder if they will fit with other items around your ears. Fortunately, if you require a nasal cannula, you'll be happy to know that wearing hearing aids and using oxygen at the same time isn't a problem.
In this article, we'll discuss:
Types of Hearing Aids
There are two main types of hearing aids: those that rest behind the ear, and those that sit entirely in the ear (whether it's in the ear canal or bowl of the ear).
If you have an in-the-ear hearing aid, wearing a nasal cannula will be no issue because there are no hearing aid wires, tubing, or anything else behind the ear to interfere.
Wearing oxygen is particularly a concern for those who wear hearing aids that rest behind the ear. But don't fear, the steps for oxygen tubing with behind-the-ear hearing aids are simple.
How to Wear Hearing Aids and Oxygen
Here are the steps:
Place the hearing aid body behind your ear.

Secure the tip in your ear.

Drape the oxygen tubing over your ears as you normally would, ensuring that the nasal cannula tubing does not interfere with the hearing aid's placement.
Most people find this works well for them. If you also wear glasses, be sure to put those on first and then follow the instructions above.
If you find this method uncomfortable, you may want to experiment with putting the oxygen tubing on first and then the hearing aid. Another option is to invest in a nasal cannula that secures behind your head rather than under your chin. Once you find a comfortable setup, you'll be breathing easier and hearing so much more.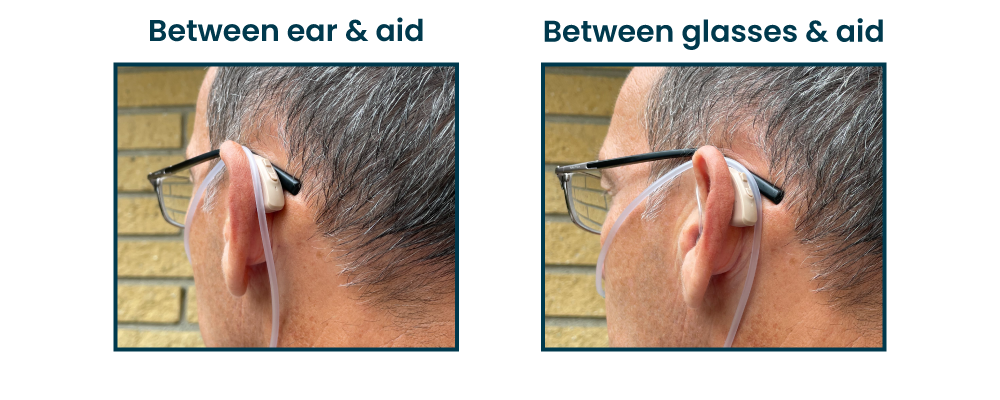 Looking for more resources?