Disposable batteries need to be changed every few days to weeks. Fortunately, it is easy to replace them. The battery in rechargeable hearing aid models cannot be changed by the user.
In this article, we'll discuss:
What is the adhesive tab for?
The small, adhesive, colored tab on the battery is a protective seal. Because zinc-air batteries are air-activated, this tab allows them to remain inactive until it is removed. Once the tab is removed, the battery is "turned on" and begins to discharge, so don't remove it until you're ready to use it.
To get the best performance from a zinc-air battery, wait about one minute after removing the adhesive tab to fully activate it before placing it in the hearing device. Replacing the sticker will NOT deactivate or "turn off" the battery. Once the sticker is removed, the battery will remain in an active state until the power is drained.
How to change a disposable battery
Grab a new battery and remove the adhesive tab to activate the battery. Wait one (1) FULL minute for the battery to become fully operational.
Use the nail grip on the battery door to open the battery compartment.
Remove the old battery with the magnet on your cleaning tool, or turn the device over and let the battery fall into your hand.
Insert the new, activated battery with the positive (+) side facing up. Then close the battery compartment.
Note: If the battery door does not close easily, the battery may be inserted upside down.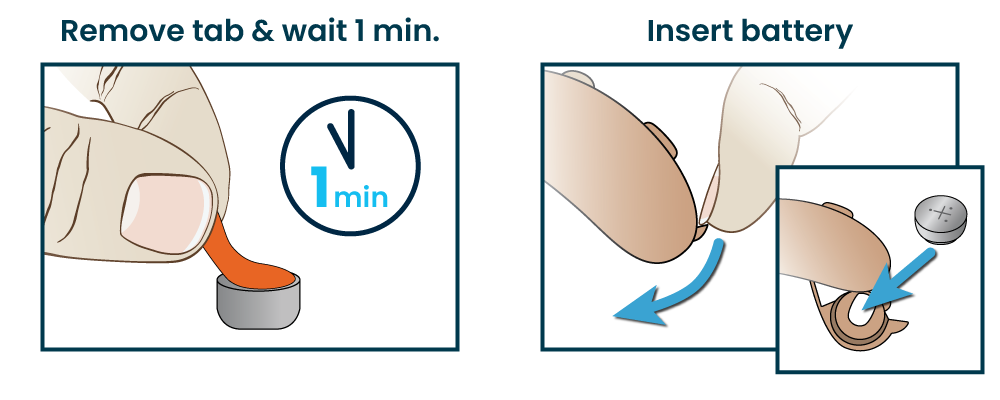 Tips for disposable batteries
Batteries can be harmful if swallowed. Keep out of reach of children and pets. If a battery is accidentally swallowed, seek medical attention immediately or call the National Battery Hotline at 800-498-8666.
For prolonged periods of non-use, open the battery compartment and remove the battery to prevent corrosion.
Store batteries in original packaging (with the tab on) until ready for use.
Do not use expired, unsealed, or corroded batteries.
Do not leave dead batteries in the hearing aid. Replace them immediately.
Looking for more resources?