Your MDHearing NEO can be easily cleaned by you at home—eliminating the need to make costly appointments and trips to a hearing clinic. Proper cleaning and maintenance of your hearing aids are imperative in order to keep them sounding and feeling like new.
In this article, we'll discuss:
Tools
Cleaning tool

Your NEO hearing aids

A tissue or microfiber cloth
Why do I need to clean the hearing aid?
Your hearing aids are exposed to earwax, skin oils, sweat, and other debris every day, which can decrease the hearing aid performance, specifically poor sound quality and volume, or block the sound entirely.
Cleaning your hearing aids and replacing your domes and wax guards routinely will help keep your NEO hearing aids working as they should.
Daily cleaning
Use the cleaning tool brush to remove dust, earwax, or other debris from the dome, wax guards, buttons, and microphone.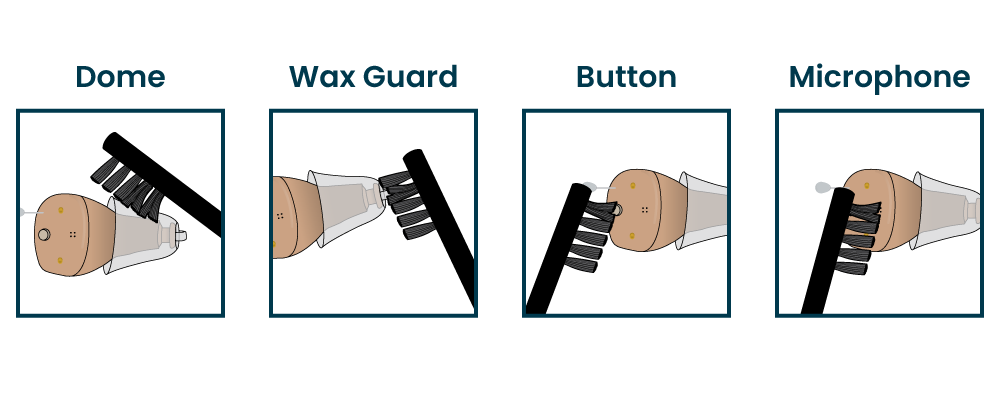 The hearing aid body can be cleaned with a dry soft cloth. Do no use water, alcohol, or other liquid agent to clean the hearing aid.
Note: This information can also be found in your user manual under the Care and Cleaning section.
Monthly cleaning
Just as with any hearing aid on the market, you should plan to perform routine maintenance on your NEO hearing aids.
Domes and wax guards are easy to change and should be replaced once per month. This will keep your hearing aid clean and working well for you.
Note: This information can also be found in your user manual under the Replacing Parts section.
Looking for more resources?