The NEO uses a multi-function push button that serves as both the on/off control and volume control.
In this article, we'll discuss:
How to Turn the NEO On/Off
To turn on/off, press and hold the button for 2-4 seconds.
4 short beeps indicate the hearing aid is turning on.

4 rapid beeps indicate the hearing aid is turning off.

The button also blinks blue when turned on or off.
How to Change the Volume
To change the volume, simply push the button quickly and release it.
Volume Increments
There are 9 volume settings with 3dB of change with each step. The volume starts on step 3 (9 dB) and can increase 6 steps to approximately 27dB. A single beep indicates each step.
A long beep indicates when maximum volume is reached. Then the volume returns to step 1 (3 dB) and starts increasing again.
When the aid is turned off and back on, the aid will reset to step 3 (9 dB).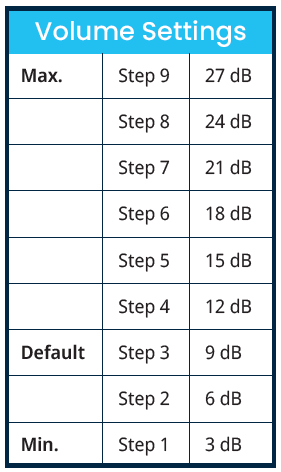 Please see your User Manual for more information.